Five full days in Red Lodge include inflatable kayaking on the Stillwater River, biking down Beartooth Pass, a full day of hiking, and a horsebeack ride.
The Red Lodge Adventure package is ideal for anyone looking to experience the best activities of the area with a little free time to relax or enjoy other activities on a whim.
Enjoy 5 nights of lodging at a historic hotel in downtown Red Lodge.
Daily scheduled activities include inflatable kayaking, horseback riding, a guided hike, and a mountain bike ride down Beartooth Pass.
During your free time, you can stroll through downtown Red Lodge, drive the scenic Beartooth Byway, and even pop into Northeast Yellowstone!
This package includes:
Queen Room at the Pollard Hotel in Red Lodge, Montana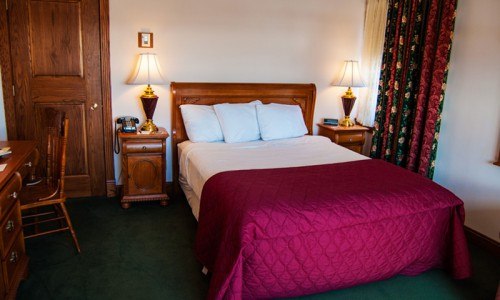 The queen room is a spacious old west style appointed room with one queen bed and a private bathroom. Each room is uniquely decorated and most contain an intimate seating area.
The Pollards historic charm has been winning people over for decades.
Free Breakfast
Non Smoking
Eco Friendly
Restaurant on Site
---
Infatable Kayaking Trip (Half Day)
Enjoy a 1/2 day stretch on a duckie (an inflatable kayak) to get bigger splashes and more excitement, all under the supervision of a guide.
The Stillwater River begins its journey high in the Beartooth-Absaroka Wilderness. Misnamed by Lewis and Clark who must have discovered one of the few quiet spots, this stunning river flows freely to the mighty Yellowstone River. The Stillwater meanders through a one sided canyon which was once the home the Crow Indians and majestic buffalo.
Watch for jumping trout, as well as elk, deer, and other wildlife on this beautiful wild river. The Class II-III rapids will sometimes get up to IV in high water season. It's exciting without being scary.
1/2 Day
Guided
Equipment Included
River
Exciting
---
Beartooth Pass Bike Ride near Red Lodge, Montana
Guided scenic, no pedaling, downhill bicycle tours on the Beartooth All-American Road based out of Red Lodge, MT.
We provide bicycles, helmets, guides, and the ride to the top of the Beartooth Pass, all you need to do is show up!
Enjoy cycling past 20' walls of snow in early June and aromatic fields of wildflowers in mid July! During the 3 hour round trip, you will travel almost 13 miles with nearly 4,000ft in vertical descent while viewing the Beartooth Mountains and the wildlife of Custer National Forest! We will make 4 stops on the tour for photos, geology, geography, and history of the Beartooth Pass and Red Lodge. Whether you are an avid bicyclist or haven't ridden in years, this is the adventure you will be talking about when you get home!
Guided
Equipment Included
Mountains
Local Flavor
Exciting
Photographic Opportunities
---
Guided Hike (Full Day)
Full day guided hikes take place either outside of Red Lodge (for folks in that area) along Rock Creek (about 9 miles south of Red Lodge toward the Beartooth Highway), or at a trailhead along the upper Stillwater River near the Barron Ranch (about 20 miles away) closer to Absarokee, in the Custer National Forest.
You will likely see big game animals in addition to the awe inspiring scenery.
Hikes are customized on guests desires and fitness level. Lunch is included.
Full Day
Young Children Allowed
Equipment Included
Cultural
Mountains
Customizable
Eco Friendly
Family Friendly
Photographic Opportunities
Wildlife Sighting Opportunities
Meal Included
---
Full Day Horseback Trail Ride in Red Ldoge, Montana
This full day trail ride takes place either along Rock Creek (about 9 miles south of Red Lodge toward the Beartooth Highway) or at a trailhead along the upper Stillwater River near the town of Absarokee. Both trails flow through Custer National Forest.
On either trail, we'll climb a fair amount, enjoy lunch (provided), and see many big game animals. Get ready for phenomenal views and a Montana experience that lives up to the name "Big Sky." Minimum age 7 years old.
Full Day
Guided
Mountains
Photographic Opportunities
Wildlife Sighting Opportunities
Meal Included
---